Plugin: Automated Offers
ATTENTION The Automated Offers plugin is only available to Land Business and Land Forever plan members. If you are a Land Personal plan and want to upgrade to use this plugin, please email hello@reiconversion.com or contact us.
What is the Automated Offers?
It is a time-saving tool that will help you make an offer to a motivated seller without needing to do anything. In this video, we talk about its functions and how you can utilize the plugin properly.

In this section of the documentation, we're going to discuss how to send automated offers to your leads based on the estimated market value of their property.
WP-Cron vs. Server Cron
The Automated Offer Plugin relies on a function called WP-Cron to send out your emails, and this function only runs when any webpage on your site is loaded. So, if there are no visits to your website at all, then the scheduled offers will not be sent. Generally, this method of sending automated offers emails is reliable.

However, if you are not very confident about the traffic frequency and volume of your website, then you can set a true cron via cPanel or any other control panel that your host provides. Cron via your host does not rely on any traffic to your site or any pages to be requested and will essentially send out your automated offers regularly on its own.
If you are under our REI Managed plan, Automated Offers will not need to rely on website page requests or traffic to send out offers. Your offers will be sent out automatically as scheduled.
Customizing the Automated Offer
You can edit the frequency of how often you want to send out the automated offers and how much you want to automatically offer your leads.
Pull Data From Form - be sure to select

Get Cash Offer (Step 2)

.
Recipient Email
Limit Offer - you'll be able to put in extra parameters for sending out automatic offers to potential clients. If you check this box then you can specify what percentage value of the property you wish to make an offer for and you can set minimum and maximum dollar amounts. As you can see in the example below, offers will go out at 5% of the market value of the property, but only if that is a minimum value of $500 and a maximum value of $5000.

Property Market Value
Calculated Dollar Amount
Minimum Dollar
Maximum Dollar

Email Delay Minutes - This controls the amount of time after the lead submits their form, that the offer will be generated ready to send to them. You don't want to send them the offer right away as you want to make it look like you're sending it personally.
NOTE This is not when the email will be sent out. Thanks to WP Cron, your site will check offers it's generated every 60 minutes. Following this, the email will be sent.
For example, if the client submits his/her form at 1:05 pm, the offer would be generated at 2:05 pm, and, if the system checks on the hour every 60 minutes, the client wouldn't receive the offer until 3:00 pm.
Email Subject - the subject of the email. Note this uses shortcodes pulling information from the form that your lead filled out.
Email Content - the main body of the email. As you can see, you can customize it to your liking and pull shortcodes from both the form your lead submitted and from other parts of the Landleads theme.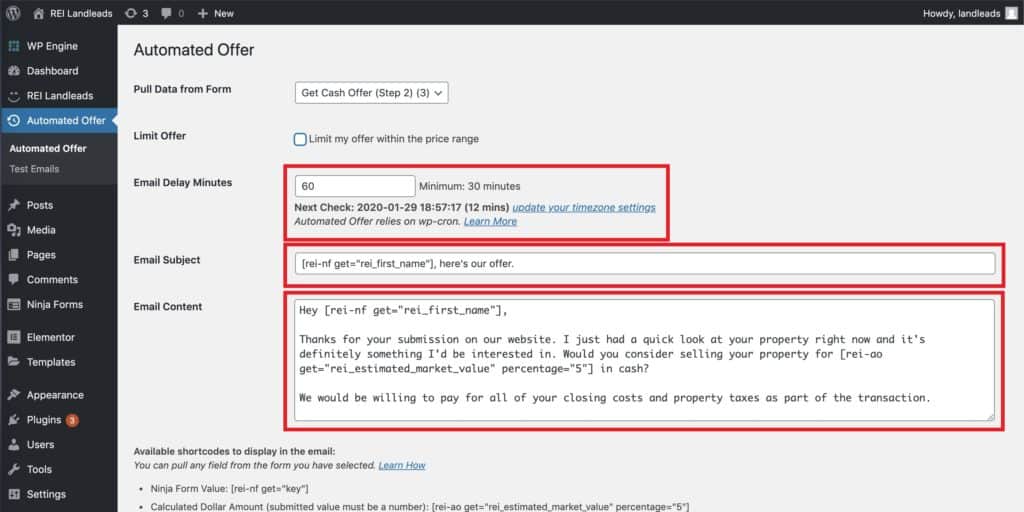 Changing the Offer Amount
As you can see, the format of the offer is calculated as a percentage of the estimated value of the property.
[rei-ao get="rei_estimated_market_value" percentage="5"]
To change the amount offered, simply change the number inside the quotation marks where it says percentage="5". In this example, you can see it's set to 5%; the default setting on the plugin.
Shortcode Formats
Some of the shortcodes on this page take a slightly different format to the example used above.
Some of them are pulled directly from the site itself, in which case you see the format [rei-owner get=""] as you can see below.

The rest of the shortcodes pull information from Ninja Forms and have the format of [rei-nf get=""] as you can see in the image below.

If you want to pull any other information into a shortcode from Ninja Forms, simply use the format above and inside the quotation marks, type in the Field Key from the Ninja Form. We discuss where to find the Field Key in the next section.
Some of the most common shortcodes you'll use are shown at the bottom of the Automated Offers page for reference.
How to Edit Shortcodes
You can edit the shortcodes that are pulled from Ninja Forms if you wish.
In order to do this, you need to ensure that dev mode is selected on your Ninja Forms settings so that you can edit the labels.
Go to

Ninja Forms

→

Settings

in your

WordPress Dashboard

.
Scroll down to

Advanced Settings

and make sure that the box is

✓ checked

for

Form Builder "Dev Mode"

.
Once this is done, scroll to the bottom and click

Save Changes

.
Now, head to your

Ninja Forms Dashboard

in the

WordPress Dashboard

and click on the hyperlink for the

Get Cash Offer (Step 2)

form.
Scroll down to the question you want to edit the shortcode for. In this example, we will use the market value of the property.
Click on the box and to the right, you'll see the

Administration

drop-down tab.
Under

Field Key

, you can change the name.
When you're finished, click on

Done

to save.
Remember, if you change the Field Key, you will have to change the name of the shortcode in the

Automated Offers

plugin page. For example, if you change the

Field Key

to just say market_value, the shortcode would read as [rei-ao get="market_value" percentage="5"]
How to Check if the Offer has been Sent
If you want to check if offers have been emailed out, simply head over to Post SMTP plugin page in your WordPress Dashboard and you'll be able to see a list of the emails that have been sent out.
Post SMTP is a free WordPress Plugin that allows you to log all your emails going out from your website and more.
If you don't see Post SMTP in your Dashboard you will need to install and activate the plugin. Click here to learn more about the plugin's install and setup.
Deactivating Automated Offers
If you don't want to send out automated offers to your leads, you can deactivate the plugins page.
Go to Plugins → Installed Plugins on your WordPress Dashboard and under Automated Offer you'll see the option to deactivate.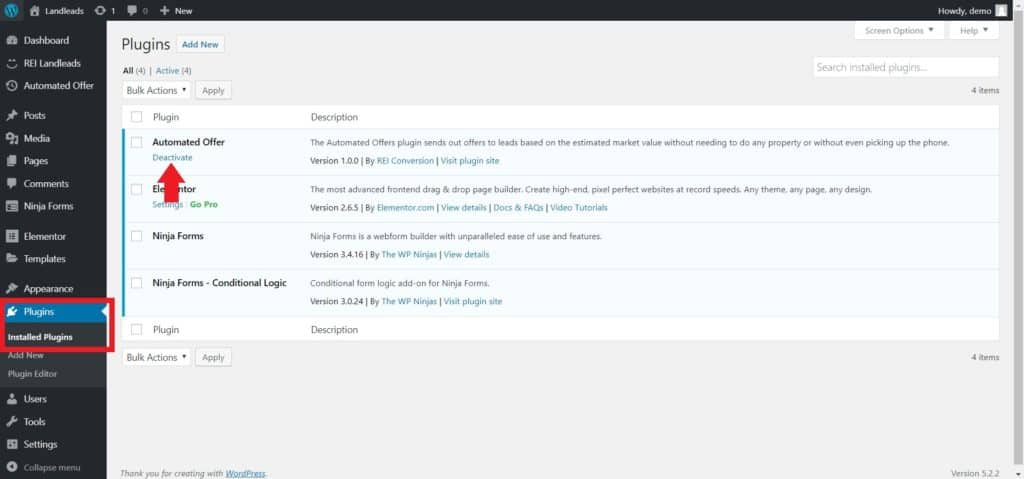 Sending Test Emails
Before your offers start going out to leads, you're likely going to want to see what the offers look like, just to check that everything is working.
Go to

Automated Offers

→

Test Email

in your

WordPress Dashboard

.
Select one of your submissions and then enter the

Recipient Email Address

you'd like the test to go to below
Then click

Send Test Email

.
You will then receive an email that looks exactly the same as the one that will go to your leads.