Ninja Forms for REI Landleads
Ninja Forms is a fully customizable plugin designed to make capturing buyer leads for your site a breeze. It effortlessly integrates with WordPress to create stylish forms that captures important information from potential clients. A must for a landing page website such as this.
Getting Started with Ninja Forms
After installing the demo, you will already have 2 preset forms that you imported into Ninja Forms. The Get Cash Offer Form which sits at the top of your page and the Get Cash Offer 2 form which allows your potential leads to fill in more specific details about their requirements.
Head over to Ninja Forms > Dashboard on the left-hand side of your WordPress admin panel to check these out.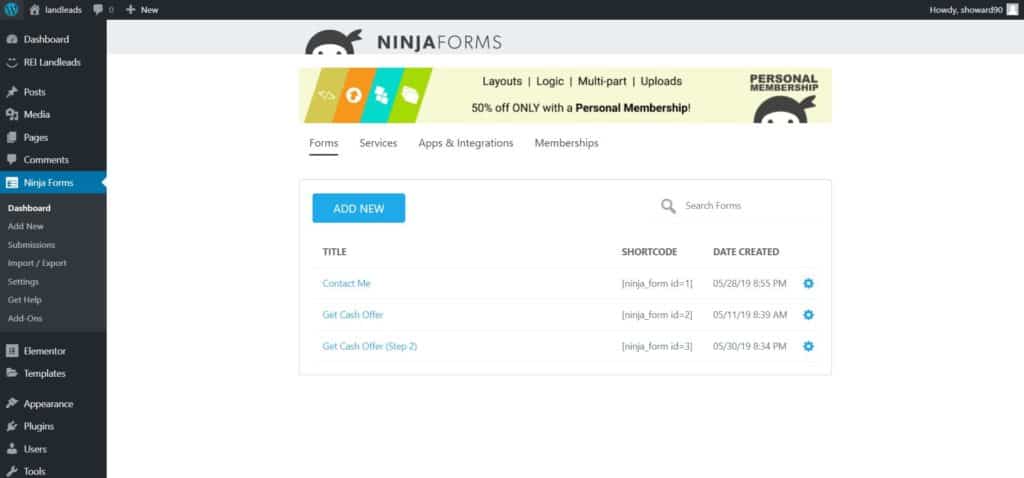 How to Edit your Ninja Forms
Simply click on the form name and you will be taken to the customization page.
Get Cash Offer Form
The Get Cash Offer Form is super simple and is designed to be the initial capture form for your leads. Information including name, email, the desired property area and county are all listed.
If you want to edit, duplicate or delete one of these elements, hover over the settings symbol and the symbols to delete or duplicate the field will appear.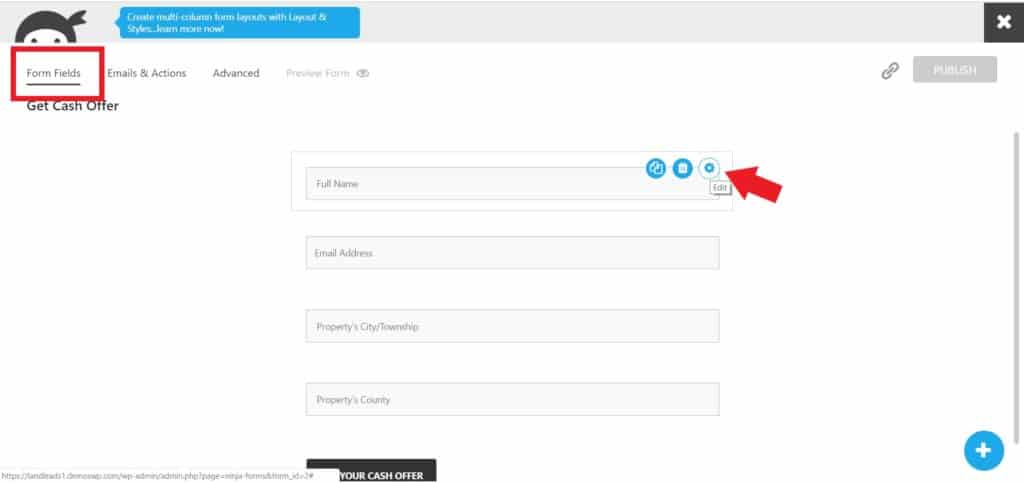 The little gear you just hovered over is the button you click to edit the field. The edit option opens up a panel on the right, giving you countless options to customize the type of data you would like people to input into your form.
In this example, we duplicated the name field on the form and renamed them under the edit tab to First Name and Last Name: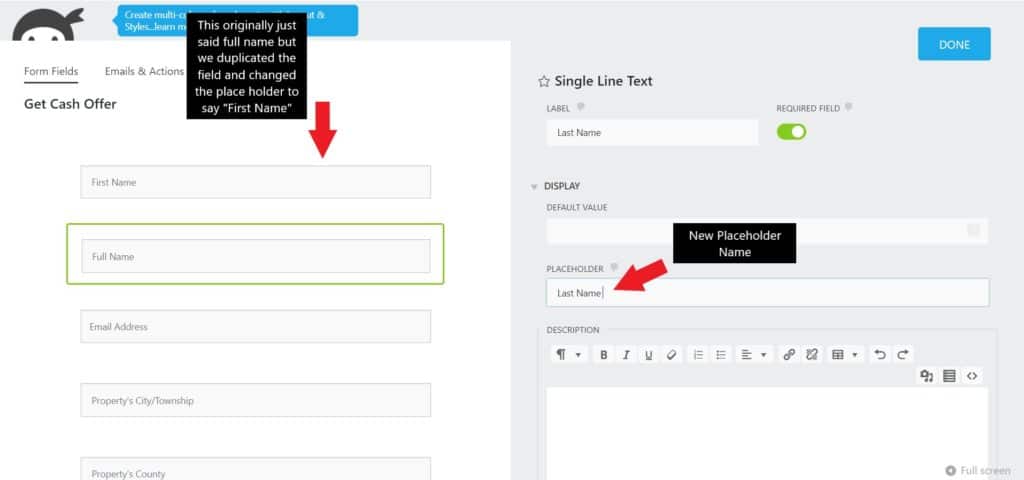 There are several other tabs to help tailor the type of information you receive:
Restrictions allow you to limit the number of characters or words in each field.
Display helps you edit any help text and description of your fields.
Advanced allows you to add placeholder text in the field as well as add HTML attributes to your field.
Administration allows you to add custom keys to identify that specific field in your Ninja Forms account.
To learn more about these options, check out the Ninja Forms Documentation here.
Get Cash Offer - Step 2 Form
The second Get Cash Offer form has a lot more options you may wish to edit.
Editing, however, is done in the exact same way as we showed above.
The email and name field will automatically be filled out based on the information the lead typed in on the home page.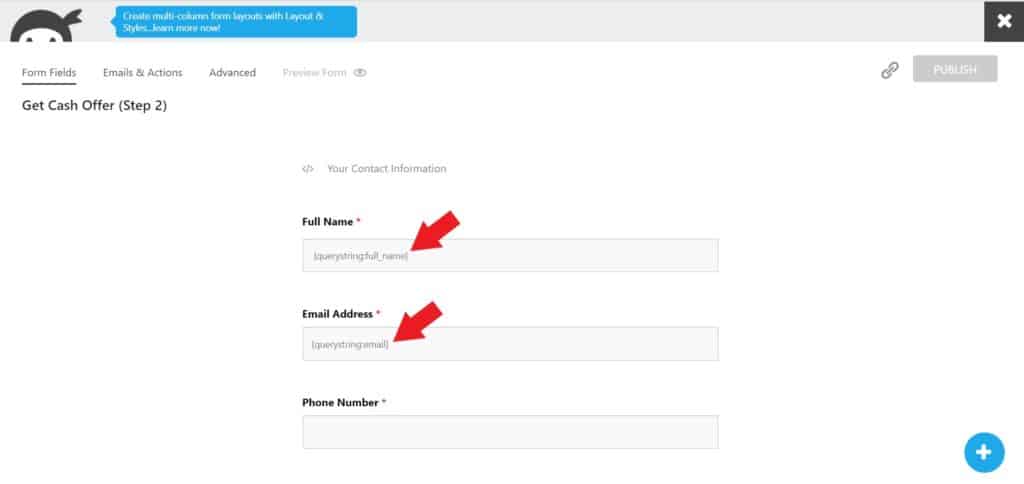 Styling Ninja Forms
In order to change the styling of your Ninja forms, you will be required to install an add on at an additional cost. You can learn more about this here.
Collecting Emails and Targeting Clients
Once a potential client has put in their details you will be notified via email.
It's best to integrate your Ninja Forms with an email marketing campaign provider such as MailChimp or Get Response; we prefer the former when you're first starting out as they have a free subscription.
These providers will store your potential clients' email addresses, allow you to categorize them into appropriate groups and send them marketing emails accordingly.
If you want to know more about how to sign up for and use Mail Chimp, we suggest you check out this section of the documentation.
If you need any further support with Mailchimp integration, you can access their documentation here.